Taipei City, Taiwan – December 11, 2019 –
The storage technology designer and manufacturer, QSAN Storage, provides a new 5Ps strategy of entry-level all-flash array procurement for users to distinguish the right storage system and get ready to face the challenges behind the data growth to help users to keep up the trend of the new business model and company digitization.
Why 5Ps strategy is important?
Business model and services have changed, customers now expect content tailored in real-time interaction and no redundant time tolerance. Replacing an all-flash array system has almost become an inexorable trend. Therefore, how to choose the right all-flash array system from the market needs a standard.
What is 5Ps strategy?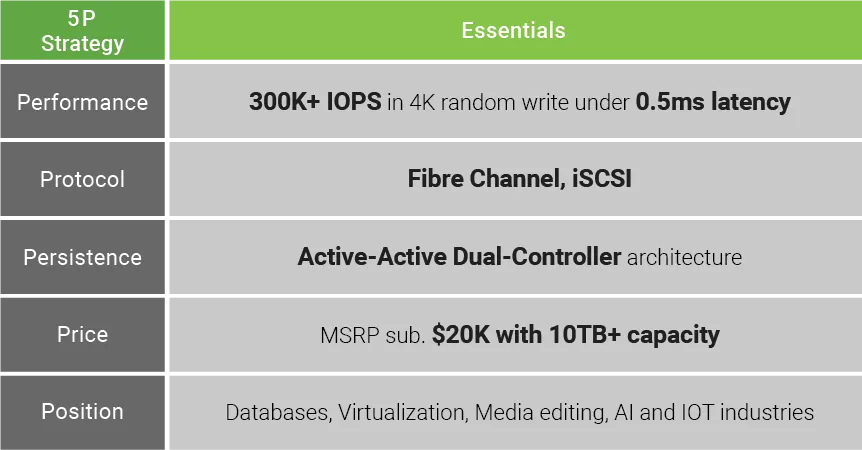 A primary advantage of all-flash array is consistently high performance. The measurement including three factors: IOPS, Latency and Throughput. However, notice that a real all-flash array system is not a faster hybrid array, you need to take IOPS and Latency together for the measurement. Applications with databases frequently accessing generates random reads/writes and the latency over 1ms will not only make bad user experience but also increase the possibility for data loss. Reaching 300K IOPS in 4K random write under 0.5ms latency is a minimum.
In networking or data center for virtualized environments and mission-critical applications need higher bandwidth to support: 10GbE network, Fibre Channel. 10GbE is becoming popular and FC can deliver lower latency. The painless migration of entry-level all-flash array must provide both protocols.
Service unavailability for any mission-critical application is not acceptable. With Dual-controller architecture, a non-stop service is fulfilled. Any unexpected single controller failure won't cause the service stop since another controller takes over the service. The active-active design guarantees the performance while two controllers utilizing the same storage resource.
Started from the minimum demanded capacity, the capacity can be expanded cost-effectively as the demand grows in the Entry-level All-Flash array. Choosing the better capacity-price ratio Entry-level AFA in the market ensures that you will always get the capacity as much as possible with less cost and significantly increase the ROI on AFA.
Entry-level AFA is ideal for the small and medium business customer who requires data processing for database, virtualization environment, media production, and high-computing like AI and IoT. Even large-scale business can use entry-level AFA for growing service, and adopting to higher-level AFA after the business becomes matured and requires a higher-level device.
How to start?
Most importantly, keep the 5Ps in mind and don't feel forced to begin. Ask your incumbent storage vendor for more advice and do the 5Ps checklist for those options. In this case, you can find a cost-effective and best-of-breed product for your applications.
Not forget XCubeFAS is also an entry-level all-flash array that fulfills the 5Ps checklist and even more! XCubeFAS can provide more than 300K IOPS under 0.5ms in 4k random write. Contact us and find more about
XCubeFAS solutions
here.