Storage Efficiency and Performance Coexist Dual Active Unified Storage.

Taipei City, Taiwan – July 22, 2021 – QSAN Technology, Inc., a global leading brand in storage solutions, today released the latest QSM firmware for the XCubeNXT series, including the enhancement of Deduplication and Hybrid SSD cache.
XCubeNXT series now has a great improvement on Hybrid SSD cache and Deduplication, achieving storage efficiency and maintain performance in the same time!
Plan Budget Smartly, Save Capacity Easily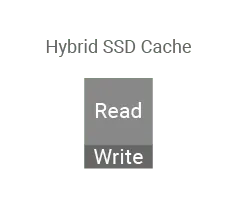 Speedy Deduplication
QSM leverage hybrid SSD cache into deduplication and let SSD to complete all deduplication calculations. Through high-speed SSD, the performance can be maintained even after long-term use, making the performance faster and more stable than before after the deduplication is turned on!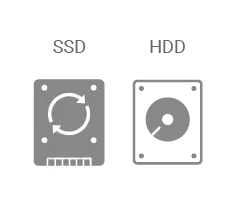 Easy to Config Hybrid SSD cache
In the Hybrid SSD cache, QSM divide the space of an SSD into read and write caches, which means one SSD can provide both read and write cache to your entire system. This can greatly reduce the system configuration requirements compare to the SSD cache before.

With the integration of the two functions, now you can have read/write cache and deduplication in your entire system with just two SSDs. This change gives you a great flexibility when you are plan your disk configuration, fulfill capacity requirement, storage efficiency and performance at the same time.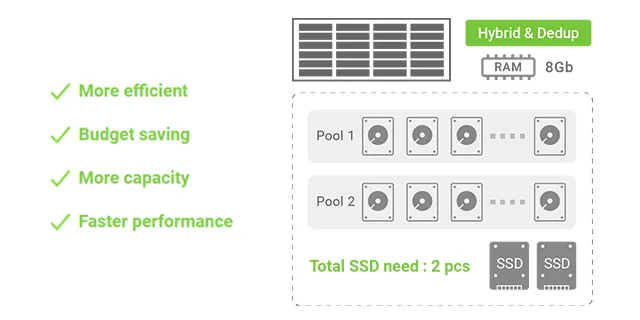 Please check
QSM
page for more information.
About QSAN
QSAN has been a forward-looking pioneer in the IT industry that is committed to data protection. QSAN creates simple, safe, reliable, and uninterrupted storage services to businesses for all sizes. Our high-cost performance ratio connects the global leaders that help them turn data into creative momentum, build dynamic capabilities for digital transformation, and make flexible strategies to enhance business operations.
We've been developing strong relationships with worldwide partners to empower businesses with instant delivering services and comprehensive solutions. High-end-enterprise-level performance and agile management have proven records by thousands of organizations, which are taken seriously by us through any stage of their careers. QSAN aims to make a positive impact on data and become the force of our customers' success because we believe all businesses deserve the best opportunity.

For more information, please visit: www.QSAN.com