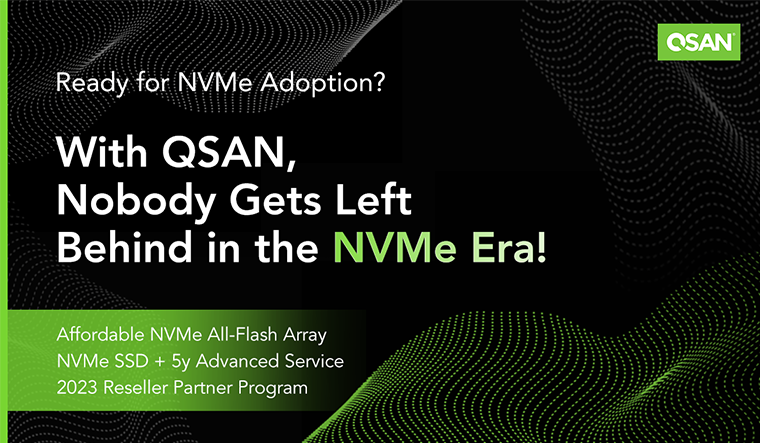 Welcome to a new era - NVMe
In this increasingly challenging market, conventional storage seems no longer enough for next-generation workloads, leading the emergence and boom of NVMe products on the market. Going with the trend, QSAN has offered multi-tiered solutions to assist partners and customers to adopt in NVMe technologies and accelerate NVMe transition, such as flagship product NVMe AFA bundled with NVMe SSD, Reseller Partner Program for our valued partners, and Advanced Replacement for NVMe SSD users, etc.


What is NVMe?
Designed specifically for high-performance SSD, NVMe (Non-Volatile Memory Express) is an optimized transport protocol, offering greater throughput and much lower latency than SAS and SATA protocols. The granted high performance has made NVMe technology ideal for production environments with large amounts of stored data and high-performance data processing, such as data centers and bigger enterprises to adopt for their highly demanding, workload-intensive applications that need real-time processing without bottlenecks.
What is the future of NVMe?
With the significant increase in performance, the demand for NVMe seems to be boosted by the fast-growing cloud-hosting services, especially offered by Tech Giants. According to NVME Global Market Report 2022 by The Business Research Company, the global NVMe market is expected to grow to $149.06 billion in 2026 at CAGR of 31.86%. As transformation and innovation are happening across many industries, the increase of NVMe product demand seems inevitable. Not only do big enterprises have explosive rise in data and demands for NVMe storage but small and medium-sized enterprises also need to take advantage of NVMe to benefit their business.
How QSAN accelerates the transition to NVMe
Affordable NVMe All-Flash Array
While NVMe is going to become the dominant interface eventually in the future, the choice of vendors offering NVMe solutions today is still limited, and most of all, high-priced. And that's where QSAN delivers unique value, especially for small and medium business. QSAN is the world's first to offer an enterprise-class native NVMe All-Flash Array delivering new levels of performance and affordable for small and medium business.



Bundled with NVMe SSD for extreme performance
What's more, QSAN XF3126D is bundled with newly launched SD4 NVMe SSD to achieve extreme performance at microseconds latency. SD4 is a dual port NVMe SSD series with PCIe Gen 4x4 interface: it supports the industry's new U.3 interface and is fully backward compatible with U.2 slots. This integration enables SMB to easily transition to NVMe All-Flash storage and dramatically improve application performance with limited budget. In addition, it takes the worry out of sourcing and buying the available and compatible dual-port NVMe SSD in the market.
2023 Reseller Partner Program
To enable more channel partners to get to know better about NVMe All-Flash Array and reach out to more NVMe opportunities, QSAN announced 2023 Reseller Partner Program for valued partners with assurance that their investment in QSAN NVMe All-Flash Array will provide value for the entire lifetime of its application. The program provides efficient on-board pre-sales and technical training to enable partners to deliver greater value across QSAN products. Besides, there is a generous bonus reward and thank partners for their contributions, dedications, and effort they're making to QSAN.
Global promotion - NVMe SSD advanced replacement
QSAN also appreciate and value the customer's trust and confidence in our products. If your SD4 NVMe SSD comes pre-installed in an XF3126D system, QSAN will offer a 5-year advanced replacement for those NVMe SSD, saving customers' time in cumbersome RMA process and waiting for the fix and return of the faulty drive. With all these strategies, QSAN is empowering and equipping customers and partners, especially for small and medium business, to manage the increasing demands of next-generation workloads in the upcoming future.