Taipei City, Taiwan – April 11, 2019
- QSAN Technology, a leading storage technology designer and manufacturer, has won an award in the Red Dot Award: Product Design 2019.
XCueNAS received the Red Dot
, which the renowned jury only awards to products that feature an outstanding design.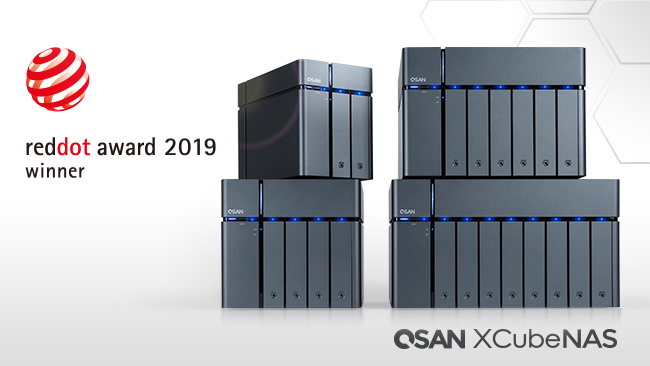 In 2019, designers and manufacturers from 55 countries entered more than 5,500 products in the competition. The international jury comprises experienced experts from different disciplines. Founder and CEO of Red Dot, Professor Dr. Peter Zec said: "The fact that their products were able to satisfy the strict criteria of the jury bears testimony to their award-winning design quality. The laureates are thus setting key trends in the design industry and are showing where future directions may lead."
XCubeNAS product line is designed to meet the storage needs of modern companies and workgroups, providing enterprise-grade data protection, performance, and scalability, as well as such convenient features such as tool-less disk installation, fast and convenient memory upgrade maintenance, noise reduction and less dust accumulation. Each model in XCubeNAS product line is equipped with additional SSD slot primary used for caching or auto-tiering and providing QSAN's NASes with stable performance even under extreme workloads.
About the Red Dot Design Award
In order to appraise the wide scope of design in a professional manner, the Red Dot Design Award is broken down into the three distinct disciplines: the Red Dot Award: Product Design, Red Dot Award: Brands & Communication Design and Red Dot Award: Design Concept. With more than 18,000 submissions, the Red Dot Award is one of the largest design competitions in the world. In 1955, a jury convened for the first time to assess the best designs of the day. The name and brand of the award were developed in the 1990s by Red Dot CEO, Professor Dr. Peter Zec. Since then, the sought-after Red Dot is the revered international seal of outstanding design quality. The winners are presented in yearbooks, museums and online. Further information:
www.red-dot.org
.
About QSAN
QSAN Technology, leading storage technology designer and manufacturer, was founded in July 2004. Building on our vast experience in the industry, QSAN endeavors to provide the industry with high performance data storage systems that are simple, secure, scalable and reliable. For more information, please visit
www.QSAN.com.
Press Contacts

QSAN Press Room
press@qsan.com