Company Biography
BTV is a large-scale modern cultural media organization integrating radio and television, new media formats, film and television art production, cultural market development, and talent training. Its main business covers radio and television editing, production, broadcasting, transmission, new media development and application, film/television production and publishing, cultural facility operations, advertising operations, and many other fields. Moreover, The Beijing Winter Olympics Documentary Channel is the official release platform of the Beijing Winter Olympics Organizing Committee and a new sports TV. It is an important platform to promote the better development of the ice and snow industry.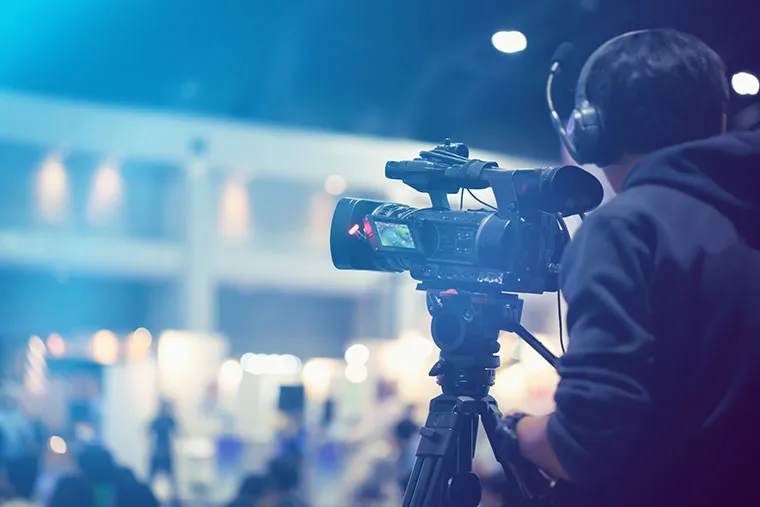 The Challenge
In order to ensure the normal development of high-definition video production and 4K production business, the tower storage system provided this time needs to have the features of Thunderbolt NAS sharing function, data backup function, high bandwidth, stability, reliability, high security, easy expansion, easy maintenance and so on.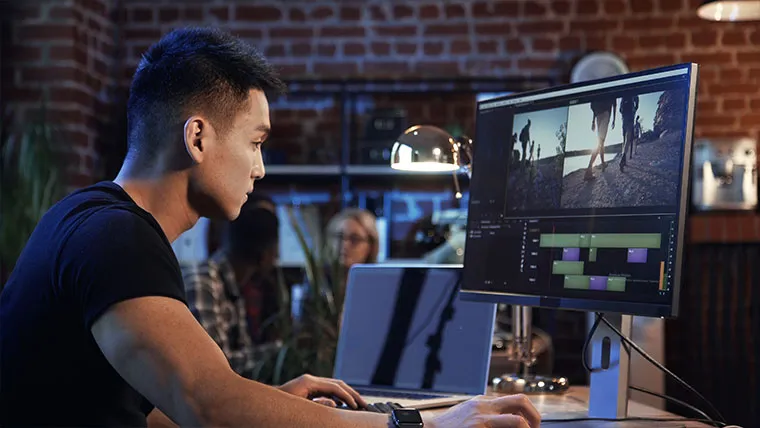 The Solution
• After a long-term evaluation and in-depth research on product comparison, Beijing Television chose XCubeNAS 8008T as its new storage solution. XCubeNAS 8008T performs well in enterprise-level applications with its efficient features. It provides a wide range of configuration methods for various application requirements with simple, safe, scalable and powerful functions. QSAN replaces the expensive original storage system at a reasonable price.

• The silent XN8008T Tower NAS storage adopts dual-port Thunderbolt 3.0 interface, and 8 hard drives can provide a stable video stream exceeding 1280MB/s. It can meet the storage performance requirements of HD and 4K workstations for editing and packaging.

• All Tower NAS storages can support file sharing, multi-point data, authority backup, and disaster recovery.

• Each workstation in the production network deploys an XCubeNAS 8008T, a single disk is configured with a 12T hard disk, and it provides 96TB of storage space.

• In addition to common RAID modes, it also supports RAIDZ3 technology. After RAID, 3 hard disks can be redundant without a hot spare disk, which is 5 times safer than RAID6.

• The unique SSD hard drive slot can also take into account the performance improvement of enterprises without sacrificing the original hard drive slot. It perfectly integrates the performance of the SSD solid state drive, and provides SSD read/write cache as well as automated storage tiering functions. • X8008T can perfectly meet the needs of HD and 4K online editing with relatively low cost.

• X8008T can perfectly meet the needs of HD and 4K online editing with relatively low cost.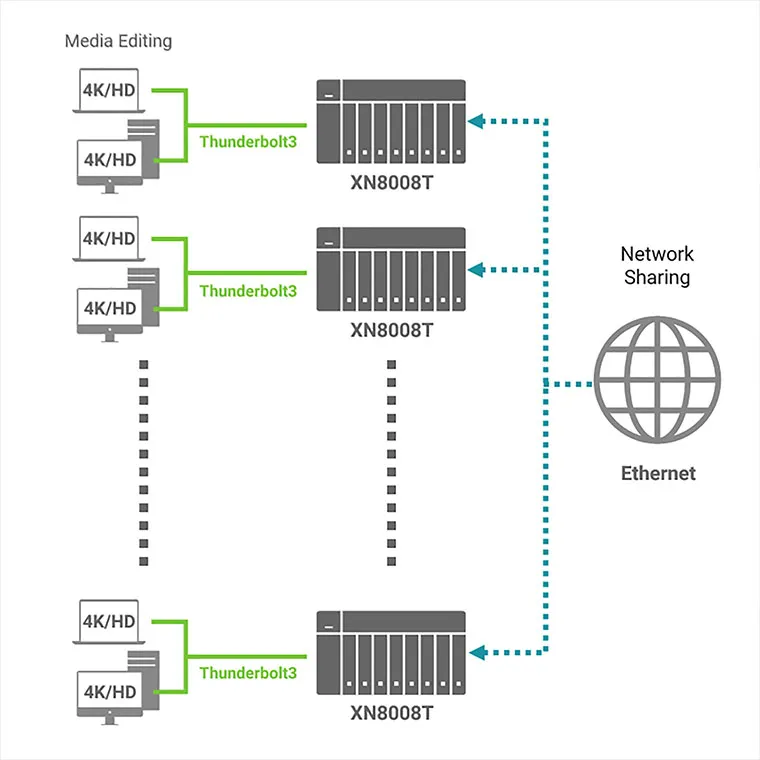 The Benefits
• The industry's exclusive 8+1 hybrid storage architecture supports storage expansion and Thunderbolt NAS sharing.
• Support 1 Gigabit, 10 Gigabit, Thunderbolt 3 interface. Provide ultra-high and stable performance, maximum read bandwidth 3920MB/S, and write bandwidth 3831MB/S.
• Complete backup solution - XMirror is highly available and cost-effective with the professional backup software.
Recommended Product
Recommended Models
Recommended Features
The industry's exclusive 8+1 hybrid storage architecture
Unified storage-The integrated storage system can simultaneously support block and file storage applications, and supports iSCSI, CIFS, NFS, FTP, WebDAV and AFP
Comprehensive data security protection - military-grade storage pool encryption, AES-256 storage pool encryption technology, Write once read many(WORM) to get away from ransomware attacks, Self-Encrypting Drive (SED) and local/remote snapshot backups
Complete backup solution - XMirror, supports multi-point data, authority backup and disaster recovery between NAS
Advanced enterprise storage technology - automatic tiering, online file compression, and data deduplication.
Support high-speed 10GbE network solutions.
An epoch-making solution - Thunderbolt™ 3 (40GbE)