Company Biography
The Shanghai Design and Research Institute has a number of national Class-A qualifications of engineering survey, design, general contracting, supervision, consulting, environmental impact assessment, and water resource demonstration.
The scope of business covers comprehensive national Class A design units across the country and overseas markets. Such business performance is bound up with advanced data construction. There are three IDCs and dozens of servers that generate a large amount of important research data every day.
To ensure these important assets are long-term protected, the IT staff of the Survey Institute is considering to make a centralized backup of all servers.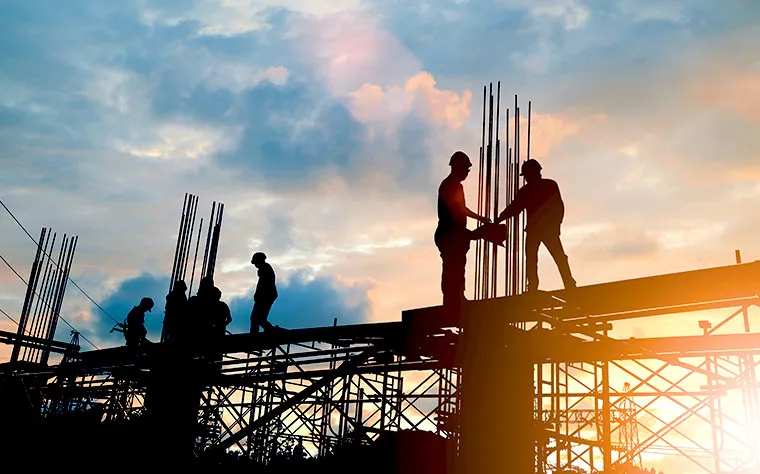 The Challenge
The design institute requests for a backup system establishment for the three major computer room to improve the application
continuity of key data. The design of the backup system requires the following features:
1. Backup data needs to be centralized processing
2. Large storage capacity and flexible expandability
3. The design should be cost-effective and efficient, without extra cost to purchase third-party products.

Considering that three different IDC will centrally back up to one storage system and that customers do not have their own
backup software, a new network environment must be built.
We recommend the QSAN XCubeNAS 8012R for its powerful backup function and the free QSAN®XReplicator ™ software

fully meets the customer's demands.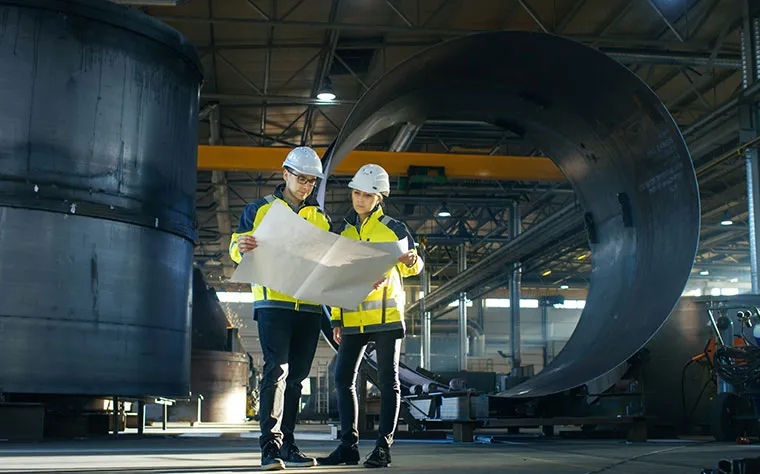 The Solution
After evaluation and research, QSAN XCubeNAS 8012R was selected as its new storage solution. According to the customer's requirements, we recommend the XN8012R storage system for current data and the amount of data that needs to be backed up in the next 5 years. XN8012R supports the top-level design of with 12 SATA HDDs, 4 SSDs, and 2 high-speed NvME SSDs.The storage capacity can reach more than 150TB, which fully meets the customer's existing backup capacity requirements. Besides, XN8012R can be connected with more than 8 QSAN storage expansion cabinets or connected to other QSAN XCubeNAS through the built-in virtual disk function, which meets the future capacity expansion needs.

Customers only need to connect XN8012R to their network platform, no other management server is required to share large storage space for all servers on the existing network. Install the free QSAN®XReplicator ™, after simple settings, the QSAN XCubeNAS 8012R network storage will be searched. At this time, the customer can choose the important documents, databases, and other data on the server to be backed up to the XN8012R. Users can also make more settings such as snapshots or sync backup.

The XCubeNAS 8000 series excels in enterprise-level functions with efficient features. It provides a wide range of configurations for a variety of application needs with a simplicity, security, high scalability, and affordable price. The hypervisor is supported on the virtualization architecture to intelligently configure data in a faster and more efficient manner. Multi-path I / O access also helps companies leverage existing resources to maximize ROI, reduce response time, and optimize business productivity. QSAN replaced the expensive existing systems with reasonable storage solutions and provide advanced technologies with higher availability and higher scalability.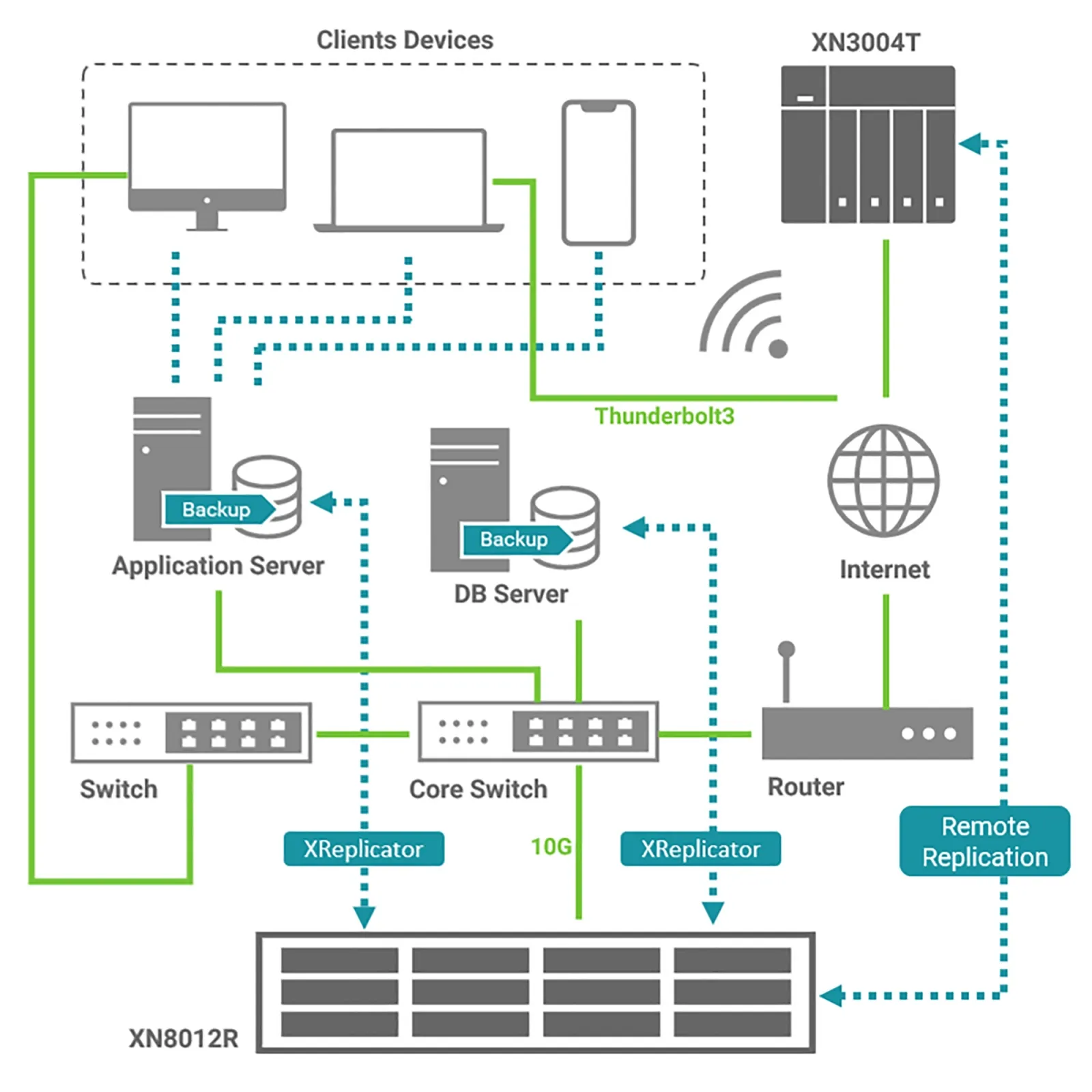 The Benefits
1.The industry's first 2U storage space (12+4+2) with the best performance, equipped with Intel® Xeon® E3 4-core processor, bringing maximum performance and large-capacity storage to hybrid storage devices. With U.2 NVMe SSDs and a memory that can be expanded up to 64GB to provide a better data transfer rate, the XN8012R has a maximum sequential write performance of 4,690MB per second and a maximum 4K IOPS of 346,000.

2.Provide the best choice for enterprise data storage applications, virtualization storage, and system backup.

3.Excellent performance, high availability and cost-effective deal, with exclusive professional backup software.
Recommended Product
Recommended Models
Recommended Features
The exclusive 12 + 4 + 2 hybrid storage architecture that supports U.2 NVMe SSD.
Unified storage - the integrated storage system that supports both block and file storage applications, and also supports iSCSI, CIFS, NFS, FTP, WebDAV, and AFP.
XMirror - a complete backup solution, supports multi-point data, permission backup, disaster recovery, multi-directional backup, and synchronization extends eight times between NAS.
Comprehensive data security protection - military-grade storage pool encryption, AES-256 storage pool encryption technology, Write once read many (WORM) to prevent ransomware attacks, Self-Encrypting Drive (SED) along with local and remote snapshot backups.
Kernel-based Virtual Machine (KVM) - the architecture management directly creates and manage virtual machines operating on the XCubeNAS without additional hardware investment.
Thin-provisioning - precise file restoration and dynamic configuration technology
Advanced enterprise storage technology - auto-tiering, online file compression, deduplication, and thin-provisioning.