Taipei City, Taiwan – June 3, 2021 - QSAN Inc., which is committed to providing secure storage solutions, released the Information Security Trilogy. With rapid growth of the endless blocking services, ransomware attacks, how to improve the protection of important data assets has become the most important topic of enterprises today. Faced with such a thorny issue of security, QSAN released Information Security Trilogy, leading the enterprise to effectively protect against any malicious cyberattack.


Step 1 - External Protection:
QSAN's access control and firewall can block various situations, or directly block specific IPs, and work with SSH/SSL synchronously to ensure data transmission security.

Step 2 – Core Data Protection:
Hackers will use ransomware to lock the data in your system and use it to threaten corporate a huge payment to unlock it. QSAN provides a variety of data protection measures, preventing data from being tampered or encrypted from the first line, and searching for malicious programs to prevent backdoor intrusion.

Step 3– Backup Protection:
Data backup is the initial line of defense to prevent data from being unexpectedly destroyed. Therefore, QSAN provides the following backup methods, applying regular backups can ensure data integrity and have disaster recovery at any time.

In addition, if you want to achieve two-in-one step (core data and backup protection) at the same time, QSAN's technology supports Veeam backup to achieve the integration of automatic data protection. Simple settings in a few steps, QSAN's core technology - API will communicate between the two parties. Business can enjoy the triple data security protection of Veeam automatic backup + automatic snapshot + automatic WORM protection mechanism. This automatic technology support also considers the use of storage capacity. Make sure there's not only data security but also the flexible storage capacity. The support for data protection will not affect general business operations while enjoying the triple auto-data-protection integration.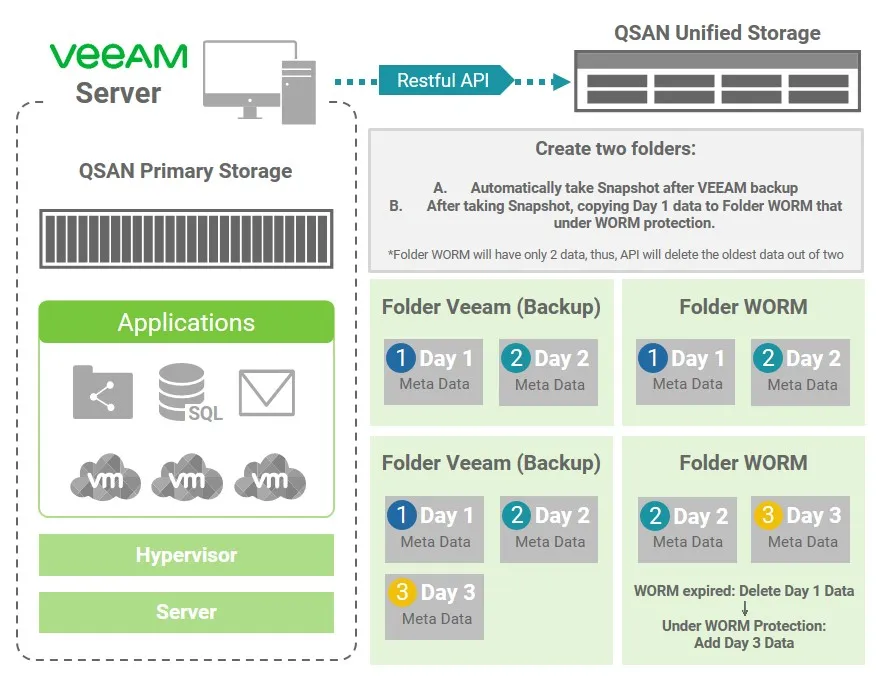 For more details of integration between QSAN and Veeam, please refer to:
- QSAN Unified Storage Series Application Note
- How to use Veeam to back up VM to your NAS Shared Folder
- Ransomware Protection Using (WORM) to Help You
About QSAN

QSAN has been a forward-looking pioneer in the IT industry that is committed to data protection. QSAN creates simple, safe, reliable, and uninterrupted storage services to businesses for all sizes. Our high-cost performance ratio connects the global leaders that help them turn data into creative momentum, build dynamic capabilities for digital transformation, and make flexible strategies to enhance business operations.
We've been developing strong relationships with worldwide partners to empower businesses with instant delivering services and comprehensive solutions. High-end-enterprise-level performance and agile management have proven records by thousands of organizations, which are taken seriously by us through any stage of their careers. QSAN aims to make a positive impact on data and become the force of our customers' success because we believe all businesses deserve the best opportunity.

For more information, please visit: www.QSAN.com