PR
QSAN Launches XCubeNXT 8100 & 5100: Enterprise Unified Storage with Cross-Platform Replication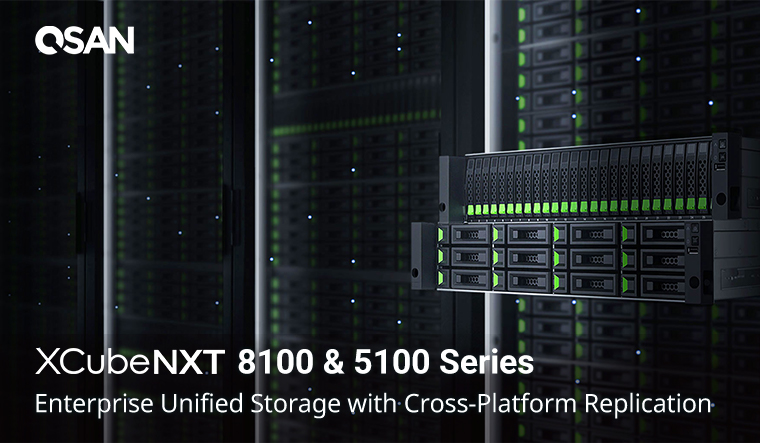 Taipei City, Taiwan – September. 6th, 2023 - QSAN Technology, Inc., a global leader in enterprise storage solutions, today released the new XCubeNXT 8100 & 5100 series next generation high-performance all-in-one unified storage with compact architecture for mixed to enterprise workloads. The newest XCubeNXT series supports multiple protocols and industry leading cross platform replication over all QSAN platforms, reshaping industry standards to define a new era of streamlined storage management. These new products are backed by a 5-year limited warranty for proven enterprise-grade reliability.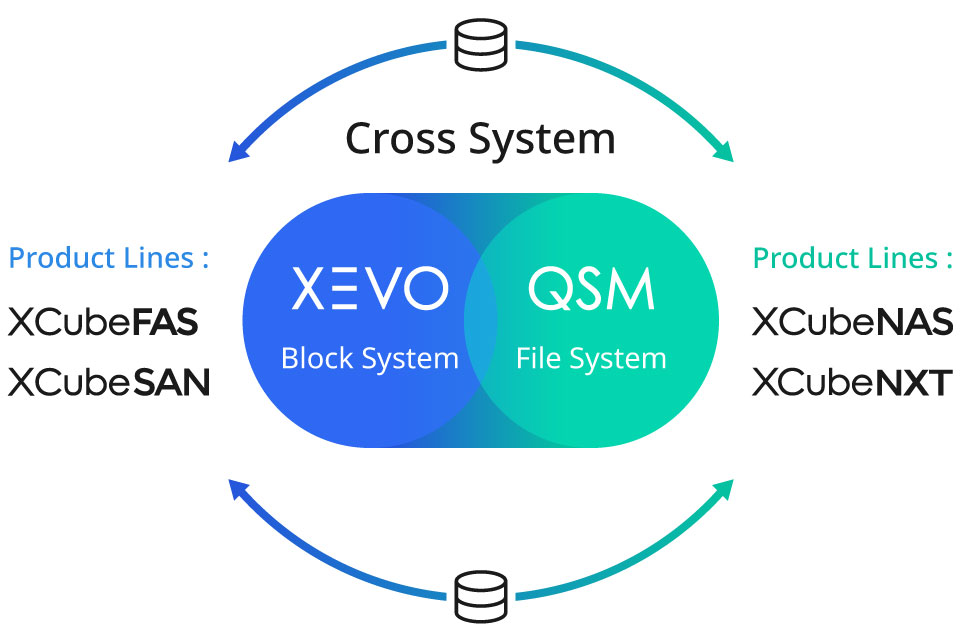 Versatile Support for Demanding Environments
XCubeNXT reveals block and file support with data backup and disaster recovery services backed with vast scale-up power for mixed workloads and performance-demanding settings, suitable for modern enterprise applications such as containerization, virtualization, file sharing, backup, media environments, and surveillance.
Modern Simplicity with QSM
QSAN Storage Management (QSM) system redefines ease-of-use, reducing the learning curve and simplifying maintenance. The intuitive GUI offers swift setup, enabling data access within five minutes of installation. Boasting support for multiple protocols and cross QSAN platform replication, QSM streamlines management and fosters seamless integration.
Dependable Data Experience
99.9999% high availability design with no single point of failure. Cache-to-flash to protect cache data in power outage and non-disruptive firmware upgrade ensures continuous data service with zero downtime.
Adaptive Scalability
Equipped with dual controllers featuring built-in 4-port 10 GbE (SFP+) and a maximum of 26 host ports, XCubeNXT allows direct connections to multiple hosts without switches as cost effective approach. The platform's exceptional scale-up potential reaches an impressive 16.7 PB. The innovative Wake-on-SAS feature facilitates remote power management for cascaded XCubeDAS expansion units, contributing to energy efficiency.
Extended to 5-year limited warranty
"The XN8100 and XN5100 mark a pivotal moment. From addressing diverse needs, be it everyday workloads or high-performance demands, to streamlining management and eradicating data silos, this series signifies a leap forward in optimized data utilization. We are confident in the new product, and specially extend the product to a 5-year limited warranty to give back to QSAN's customers." Said Steven Lin, Global Sales and Marketing VP of QSAN.
About QSAN
QSAN has been a forward-looking pioneer in the IT industry that is committed to data protection, QSAN creates simple, safe, reliable, and uninterrupted storage services to businesses of all sizes. Our high-cost performance ratio connects the global leaders and help them turn data into creative momentum, build dynamic capabilities for digital transformation, and make flexible strategies to enhance business operations.
For more information, please visit: www.QSAN.com
PR
QSAN XCubeSAN & XCubeNAS Series Achieves Veeam Ready Repository v12 Certification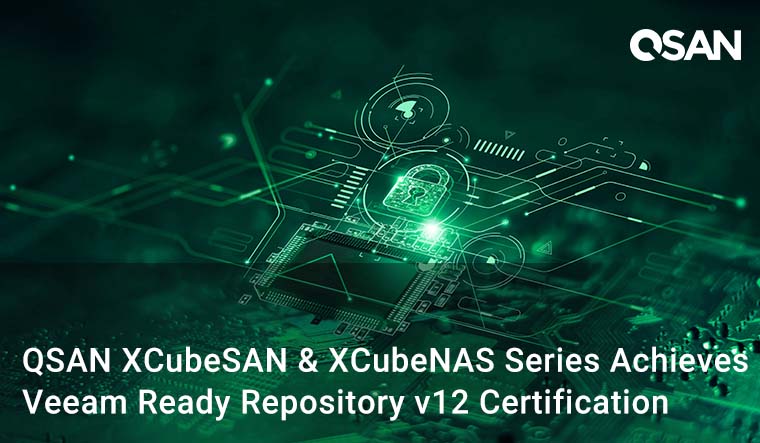 Taipei City, Taiwan – September 5, 2023 - QSAN Technology Inc. , a leading storage solutions provider in Taiwan, is proud to present that QSAN XCubeSAN and XCubeNAS solutions have both been officially certified by Veeam Ready Repository v12. This achievement solidifies QSAN's commitment to delivering cutting-edge solutions that exceed industry standards and empower businesses with elevated data protection and security standards.
Veeam, an industry leader in data protection and recovery, continues to make strides in improving its security measures against the ever-improving ransomware and hacker attack landscape. The integration of VeeaMover ensures that QSAN customers can effortlessly migrate their data, especially Direct-to-Object storage, from on-premises to object storage without disrupting the connection with corresponding backup jobs.
The v12 update introduces a host of essential security features designed to safeguard against cyber threats. With trusted immutability for every workload, Veeam guarantees that backups remain restorable even in the aftermath of a cyberattack. Enhanced cyber resiliency is achieved through Veeam ONE, which selectively restores clean data while incorporating improved secure restore mechanisms. Automation and proven recovery orchestration fortifies businesses across various workloads.
With the XCubeNAS and XCubeSAN products, businesses can confidently navigate the modern digital landscape, knowing they possess reliable, certified solutions that effectively counteract cyber risks.
About QSAN
QSAN Technology, leading storage technology designer and manufacturer, was founded in July 2004. Building on our vast experience in the industry, QSAN strives to build enterprise class storage systems that provide outstanding performance, secure data protection and comprehensive data management. QSAN endeavors to provide the industry with high quality data storage systems that are simple, secure, scalable and reliable. For more information, please visit www.QSAN.com
For more information, please visit: www.QSAN.com 
PR
QSAN Strengthens High Availability and Data Backup in Containerization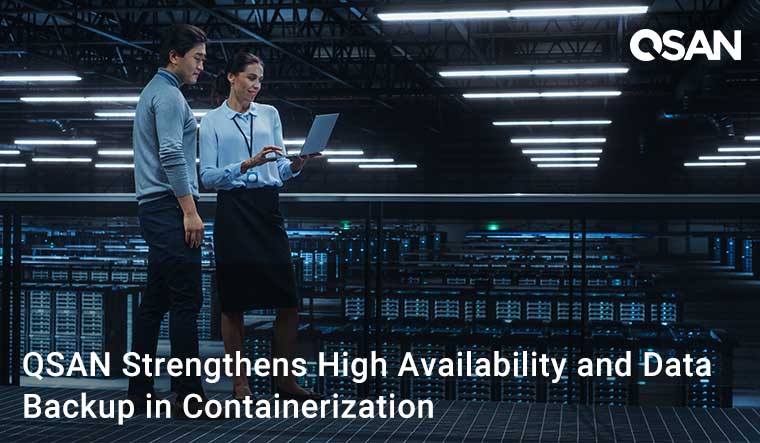 TAIPEI, TAIWAN - August 16, 2023 - QSAN Technology, Inc., a leading provider of enterprise storage solutions, has strengthened its ultra-high availability with the latest update to its CSI solution. The new update includes MPIO functionality, allowing load balancing and failover processes to be configured on iSCSI devices, providing new data protection and disaster recovery capabilities for containerized environments. In addition to the existing XCubeSAN solution, the latest CSI driver also supports compatibility with the XCubeFAS series and the enhanced container backup Velero solution.
High availability is a key element for every enterprise: as it directly impacts productivity and efficiency, it should be implemented and maintained with the ample time and resources. MPIO provides redundancy and load balancing capabilities, automatically redirecting data flow in the event of a path failure, preventing service interruptions, and ensuring continuous access to critical data. High availability support provides a solid storage foundation, ensuring that applications and users can continue to access data without being affected by service interruptions, making it a critical component for maintaining operations.
Containerization is a crucial technology for modern enterprises to protect data and ensure business continuity, bringing flexibility, scalability, and faster application development cycles. It allows for quick and reliable data recovery in case of data loss, system failures, or accidental deletions. To adapt to today's dynamic modern IT deployment environments, adopting containerization technology and implementing container backup strategies are the best choices for enterprises to secure efficient disaster recovery capabilities. With the growth of Kubernetes clusters and data, storage solutions are crucial for containerized environment deployment and backup. QSAN's XCubeSAN series easily provides high capacity expansion, and its high performance with CSI support enables enterprises to quickly deploy containerized environments. Compatibility with the backup solution Valero offers the best container backup solution for enterprises, significantly reducing the risk of data loss.