Partnering with QSAN
QSAN was founded on the idea that, with bringing A-class enterprise-grade network storage solutions at a leading price-performance ratio, we could completely change the storage market forever.
Joining QSAN's Certified Partner Program provides our channel partners with sales incentives, added resources and advanced support to increase sales, and certifications that reflect a partner's technological knowledge and success rate in sales and delivery of QSAN's Network Storage Solutions.
The QCP Program concentrates on the abilities of our partners to be able to deliver intuitive networking architecture built on QSAN's products, services, and software solutions.
QCP offers our partners independent technical training in the latest QSAN Solutions and provides them with invaluable branding resources, incentivizing our partners to add value to their QSAN Storage business by rewarding them via value-based advancement.
Each partnership level is determined by revenue and sales & technical competency. The more time you invest in the learning process and the education of your customers, the larger the rewards and commitment from QSAN.
Together we work, together we win.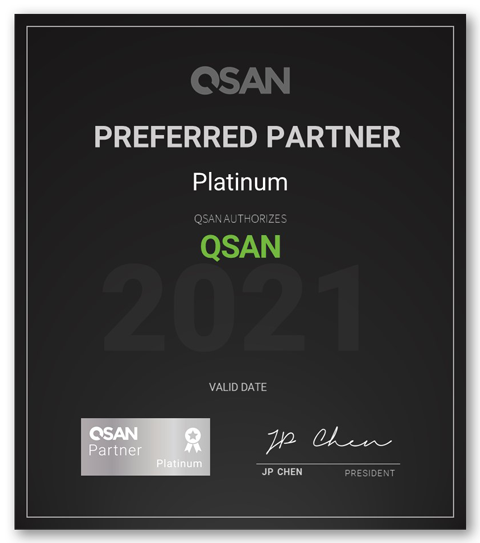 How to become a QSAN Certified Partner?
Here are numerous three different levels in the QCP Program; Silver, Gold, and Platinum. Each level requires our Partner to meet certain goals in order to qualify.

PARTNER REQUIREMENT
SILVER
GOLD
PLATINUM
Annual Revenue Requirement 1
10,000 EUR/
12,000 USD
50,000 EUR/
60,000 USD
100,000 EUR/
120,000 USD
General Certified Specialist 2
1
1
2
Advanced Certified Specialist 3
1
2
Net turnover between distributor and reseller on QSAN units.
Reseller needs to claim the rebate by filling in the required form and provide supporting documents of turnover for QSAN's verification.
The starting date of annual turnover calculation will be the first date turnover happened after partner program launched.
Self-training program and assessment. Free training and the quota for General certification/self-training for each reseller is unlimited.
Remote training by QSAN support and assessment. The quota for free Advanced certification/training by QSAN support will be limited to two per year.
Additional advanced training in the year should be discussed exceptionally and QSAN reserves the right to charge (1000 EUR/1200 USD) per advanced training.
Benefits of becoming a QSAN Certified Partner
Each level in the QCP Program brings different benefits to our Partners. By achieveing certain goals, you'll be able to gain more resources to help you sell.
| PARTNER REQUIREMENT | SILVER | GOLD | PLATINUM |
| --- | --- | --- | --- |
| Project Registration & Deal Protection | | | |
| Assigned QSAN Marketing Resources | | | |
| Certificate and Listing in QSAN Where-To-Buy 1 | | | |
| Access to Demo (POC) Program | | | |
| Specialized Sales and Enablement Support | | | |
| Specialized Technical Training and Support | | | |
| Proposal-Based Marketing Funds 2 | | | |
| Sales Target Based Rebates 3 | | | |
| Growth Attainment Rebate 4 | | | |
| Co-Branded Marketing Materials and Events | | | |
Presence ranking in QSAN Where-To-Buy will follow certificate level and performance.
Credit notes through QSAN authorized distributor. Quarterly-based proposal and ahead approval by QSAN is required.
Annual sales target rebates: Gold Partners 50K EUR / 60K USD: 1%, Platinum Partners 100K EUR / 120K USD: 2%
Growth attainment rebate will be provided if sales target exceeded by 50%: Gold Partners 75K EUR / 90K USD: 1%, Platinum Partners 150K EUR / 180K USD: 1%
What Next?
If you're interested in joining the QCP Program, don't wait! Contact us today to learn the next steps.