Model used:
TrioNAS U220
Challenge:
Server Backup, Data Backup, Disaster Recovery
Recommended features:
Snapshot, Rysnc, Remote Replication
Customer Profile

Rydygier's Hospital in Lodz is one of the best medical institutions in Poland, focused on prenatal medicine and gynecology. It has been opened since 1980, and can accommodate up to 100 patients simultaneously in rooming-in system. In parallel, it runs a gynecological clinic with over 11,000 patients per year.
Hospital's priority is to run all the facilities in a modern way, accommodating needs of young mothers. It has been awarded with "Baby Friendly Certificate" by UNICEF and EN ISO 9001:2008 certificate."
The Challenge
In the L. Rydygier sp. hospital IT environment, various medical data are digitized such as medical records, ultrasound images, X-ray images, and CT scan or MRI scan images. These data are stored at centralized servers without proper backup solution. To prevent unpredictable server errors, a well-sounded disaster recovery plan is necessary to provide extra protection to user data and enhanced healthcare service through responsive recovery from server errors. In short, the hospital needs an efficient backup solution to its server farm. Servers may run on different operating systems to serve different medical applications. Hence the backup storage needs to support a variety of network file-sharing protocols to fit the job description.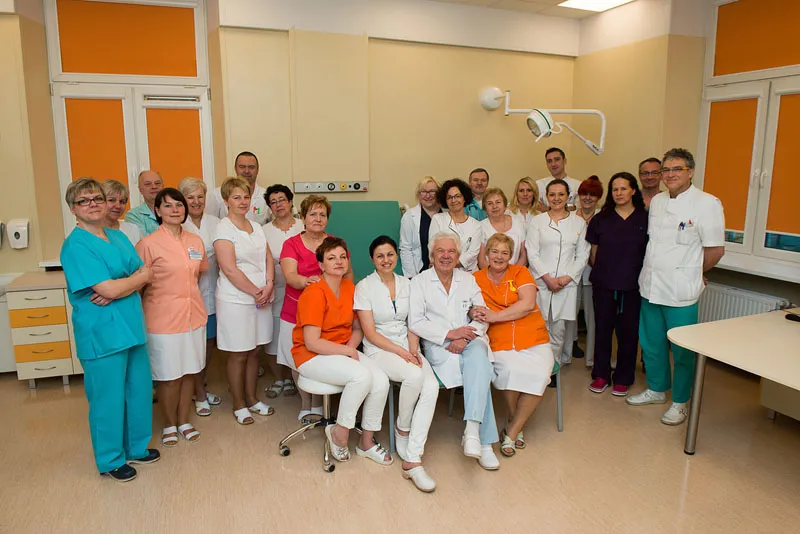 The Solution & Benefits

TrioNAS U220 supports a complete array of network file-sharing protocols, such as CIFS (SMB3.0), NFS, AFP, FTP, and WebDAV. One TrioNAS U220 can serve as multiple file servers. "Thanks to the TrioNAS U220 model, equipped with a powerful Core i3 processor, 16 gigabytes of cache memory and support of up to 12 hard drives, our data are always safe. Data protection functionality through the possibility of creating RAID 0,1,5,6,10,50,60, guarantees stability even if a couple of hard drives fail at the same time. Our TrioNAS can perfectly secure data. It can create more than 4,000 file and block volumes, and more than 4,000 snapshots. The U220 is equipped with ZFS file system to allow better data integrity. It provides transactional semantics for checking the written data and protect against information inconsistency. The self-healing architecture enables detection of silent data damages and correcting of the errors on the go. Efficient CPU and power consumption limited to the minimum allows us to use and recommend TrioNAS U220 in other medical facilities." said Piotr Gosławski, IT Infrastructure Director of L. Rydygier sp. Hospital.

TrioNAS U220 supports two 10Gb Ethernet ports to aggregate and load balance the data transmitting from multiple servers using 1Gb Ethernet connection. With efficient snapshot function for differential backup, TrioNAS U220 can provide a backup of the backup and add extra layer of security to the medical data in the most efficient way.
About Qsan
Qsan Technology was founded in 2004 by a group of experienced engineers who wanted to build top-notch storage systems. With outstanding performance, completed data protection, and smart data management, Qsan's storage systems will be the worldwide best without compromise. Qsan storage solutions have been deployed globally and trusted by organizations' businesses of all sizes and locations; furthermore, Qsan is a recognized global leader in the storage industry and the leading developer of data management and protection. Our customers can focus on building their business with award-winning data storage product lines combined with dedicated global service and support from Qsan Technology.
Qsan is not just a storage vendor, but also a technology and design company with a focus on solution innovation. For more information, please visit:
www.Qsan.com