Taipei, Taiwan, 20 February 2013
- Qsan Technology Inc, an expert of iSCSI and FC SAN systems for enterprises and SMBs, today it will showcase the latest unified storage series "TrioNAS" at CeBIT 2013 that will be held in Hannover, Germany during March 5th to 9th. TrioNAS that is significantly less expensive and highly easy to use than traditional enterprise offerings is aimed to bring enterprise-class features into SMB market.
TrioNAS features the integration of NAS and iSCSI SAN into 2U and 1U chassis along with the connection to Amazon S3 cloud storage and disaster recovery. In addition to snapshot, volume cloning and remote replication, the ZFS-based storage system is able to avoid data inconsistencies, detect silent data corruption and correct error on the fly, keeping stored data secured and sound.
Furthermore, TrioNAS provides numerous superior resource-saving features including deduplication to eliminate duplicate repeating data, compression to reduce data size, thin provisioning to allocate capacity dynamically and also SSD caching for quick read/write speed as well as random I/O. TrioNAS is equipped with 80 Plus Platinum PSU to enhance energy efficiency to reduce energy consumption and save more money.
"For years Qsan has won numerous proven records in enterprise markets and vertical applications. Now Qsan makes a major inroad into SMB market, helping organizations to manage IT infrastructure at minimum efforts."said Daniel Lin, sales director at Qsan. "We are very proud that TrioNAS delivers tier-1 storage features with simplicity and our customers can benefit greatly in the virtualization environments."
In addition to TrioNAS, Qsan also provides demonstrations for AegisSAN LX SAN systems as well as TrioNAS LX the high-end unified storage. Both products deliver great performance & efficiency for mid-range enterprise.
Qsan booth at CeBIT 2013 is located at #D84 of Hall 13.Qsan's data storage systems are available from the company's network of reseller partners. For more product details please visit
here
.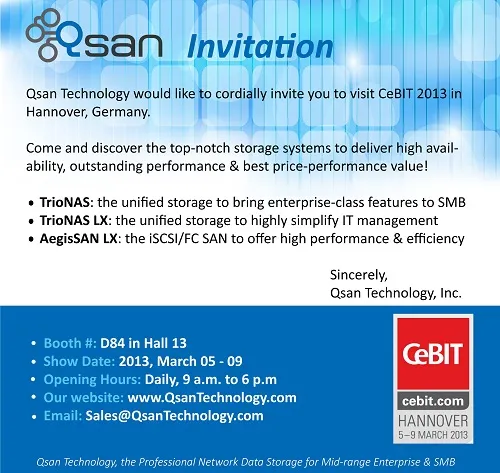 About Qsan
Founded in 2004, Qsan Technology Inc is the specialist providing a complete product line of network storage including iSCSI SAN, Fibre Channel SAN & Unified Storage for worldwide enterprises and small and medium-sized business (SMB). Qsan products deliver the best price-performance value to help budget-constrained customers greatly enhance the efficiency in the working environment.
Headquartered in Taipei, Taiwan, Qsan storage expertise specializes in flexible production capability. Qsan has a clear go-to-market strategy that revolves around distribution partners in the European tier-1 markets, the United States and the Greater China Region. Based on the vision of "making data smart," Qsan's technology aims at making business data smart enough to be always available under any unexpected circumstances, efficient enough not to waste any IT investment, and allowing easy retrieval during the whole ILM (information lifecycle management) process. For more information, please visit
www.qsan.com
About CeBIT
CeBIT is the world's leading high-tech event showcasing digital IT and telecommunications solutions, from 5 to 9 March, 2013 in Hanover, Germany.